We're going all in to protect the planet.
Responsibly managing our energy use is an opportunity to make a huge difference in our environment and within our industry. Energy powers our entire business—including our Un-carrier network, our stores, our offices and more. Because the amount we use can adversely impact our environment, we strive to minimize our use in two big ways—by using energy efficient technologies across our network and all of our facilities and by investing in renewable sources to offset the energy we do use.

In 2018, T-Mobile set an industry first by joining the RE100 pledge, committing to source renewable energy equivalent to 100% of our total electricity usage by the end of 2021. A few years and one historic merger later, we're still on track to meet this goal.
GOAL
Source 100% of our total electricity usage with renewable energy by the end of 2021.
PROGRESS
Through June 30, 2021, we have sourced 75% of our electricity usage from renewable sources and are tracking to reach 100% by the end of 2021.
How will we do it?
In 2020, across our headquarters, stores, cell towers, and customer experience centers, we used about 6.9 million megawatt hours (MWh) of electricity. We are committed to funding the creation of new, clean power projects. Our renewable energy portfolio includes nine renewable projects—eight of which are operational—one community choice aggregation, and several retail renewable agreements across the country that are already contributing to a greener grid.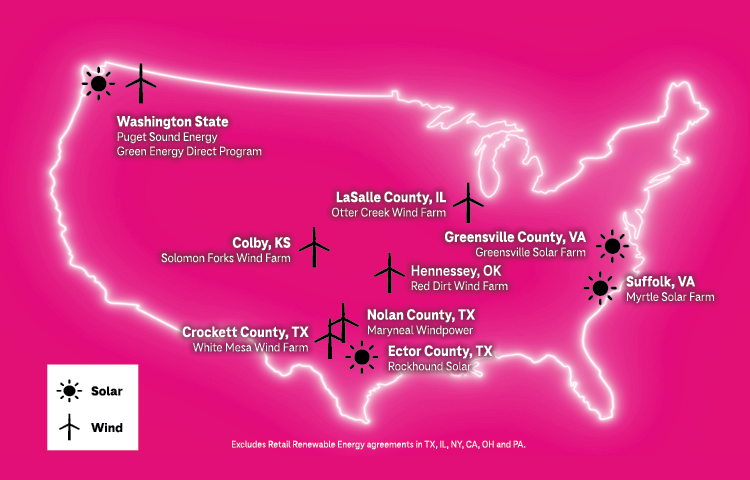 Renewable energy across the country.
As our projects come online, we're tracking to reach 100% renewable energy by the end of 2021.

Minimizing waste, maximizing efficiencies.
The Un-carrier Network: Higher data speeds. Less power used.
Our Un-carrier network uses up the biggest share of our total power use. As we continue to expand our network footprint and improve performance, our energy team is continuously researching and designing innovative ways to boost its efficiency and optimize its operation.

As the data carried by our network continues to increase, we're rolling out more energy efficient technologies, and our energy consumption per petabyte of data has steadily declined.

Our new low-band spectrum increases our service area, works better inside buildings, and improves coverage, all while significantly increasing network efficiency.

And, we're implementing new technologies that reduce the demands of heating and cooling our cellular equipment.
Creating and using less across our facilities.
We go beyond an energy-efficient network—all our facilities are participating in initiatives to conserve energy and create less waste. As we redesign and upgrade them, we're using energy-wise features such as LED lighting and making heating and cooling upgrades to reduce energy use. We've also invested in the Puget Sound Energy Green Direct program which will draw green power from the largest solar project in Washington State allowing us to source enough renewable electricity to power T-Mobile's Pacific Northwest operations.
LEED-Certified.
Vegas, this is how it's done. The T-Mobile Arena is a LEED Gold certified facility and the first LEED-certified sports and entertainment facility in Las Vegas.

Reducing waste and recycling across our entire business.
We've reduced paper receipts, direct mail advertising, and customer bills, while still maintaining the same level of access and communication with our customers. We've also downsized on printers, encouraged composting and recycling, and eliminated paper cup use from many of our customer experience centers and office buildings.
Compost
We compost at our Bellevue, WA, and Overland Park, KS, campuses and other buildings, too.
Recycling
In 2020, we recycled more than 11,000 metric tons of office waste, paper, and IT and Network e-waste.
CO2 emissions
In 2020, our recycling efforts* resulted in avoidance of 39,740 metric tons in CO2 emissions.
Learn how we're turning commitments into action.