Today Sprint, Qualcomm Technologies and SoftBank announced an agreement to jointly develop technologies for 5G. This includes developing the 3GPP 5G New Radio (NR) for our 2.5 GHz spectrum, which we anticipate will enable us to deploy our commercial 5G network in late 2019.
 
5G NR is the global 5G standard for a new air interface being developed by 3GPP. And due to the need to deliver massive capacity, 5G is putting a premium on 2.5 GHz and higher-band spectrum. This is why the Next Generation Mobile Networks Forum recently released their position on 5G spectrum and recognized 2.5 GHz as one of the recommended bands for sub-6 GHz 5G. This is also why in March this year, in Dubrovnik, Croatia, it was decided at the 3GPP plenary meeting that 2.5 GHz would be included as a sub-6GHz band for the 3GPP 5G standard. At this important meeting, 3GPP also agreed to provide an early NR release that includes 2.5 GHz.
 
Today 2.5 GHz TDD-LTE is one of the largest global wireless ecosystems used by some of the most influential operators in the world such as SoftBank and all of China's operators, including China Mobile. As one of the first proponents of 2.5 GHz and TDD-LTE for 4G, we understand the value of building a strong global ecosystem early on. This is why we are working with Qualcomm and SoftBank to develop the 3GPP 5G NR capabilities for 2.5 GHz. By doing so we are ensuring that Sprint's deep 2.5 GHz spectrum is an early first-mover in the 5G ecosystem. Not all spectrum bands have this kind of global support and economy of scale.
High-Band Spectrum Innovation
With more than 160 MHz of 2.5 GHz spectrum in the top 100 U.S. markets, Sprint has more mobile-ready 5G spectrum than any other U.S. carrier. Today we're using this advantage to densify our network with more cell sites and antennas to build a strong foundation for 5G. We know that future networks will need to be massively dense in order to meet the demand for higher data rates per person across a given geographic location. Sub-6GHz spectrum such as 2.5 GHz will be foundational for providing nationwide 5G coverage. And millimeter and centimeter wave bands will serve as capacity hotspots, providing the highest capacity and throughput where it's needed.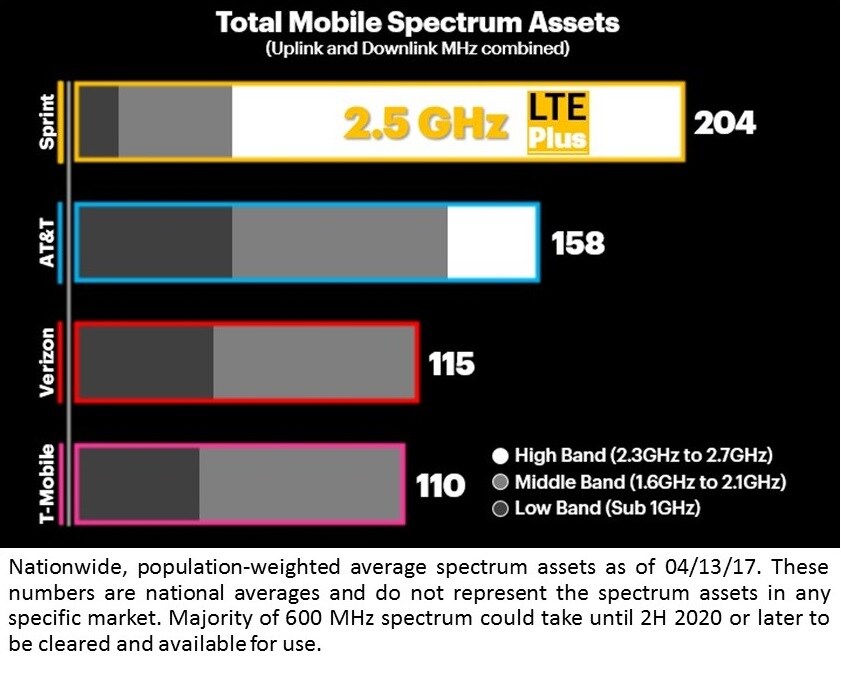 2019 will be here soon, but the work we're doing today is already delivering gigabit class speed. In March in New Orleans, we were proud to debut with Qualcomm and Motorola the first U.S. deployment of Sprint Gigabit Class LTE on a live commercial network. Over the course of this year we are working towards making Sprint Gigabit LTE commercially available in major markets across the country starting with New Orleans.
 
Today's most advanced radio antennas are 8T8R (8 transmitters, 8 receivers) – it's what we use on our 2.5 GHz cell sites. And 8T8R is only possible using high-band spectrum – an 8T8R antenna using 600 MHz spectrum would be impractically huge! But we are not done yet. We plan to take Sprint Gigabit LTE to the next level with 64T64R (that's 128 antenna elements!) Massive MIMO antennas.  This will increase our cell site capacities 5 to 10 times, to reach 3-6 Gbps per sector, long before 5G arrives.
 
The Wireless Platform of the Future
The promise of 5G is a world where our network and our devices connect all aspects of our daily lives, monitoring and responding to us and our environments. With connections that will be practically limitless in their capacity and speed, we'll share massive amounts of data reliably, in ways that are almost unimaginable today.
 
We see tremendous opportunity in mobile 5G, massive machine type communications, and ultra-reliable and low latency communications. Cloud robotics, connected cars and drones, augmented and virtual reality – these are just the start of the applications that will drive new levels of innovation and progress around the world. Our journey to 5G is well underway, and we're proud to play our part building the wireless platforms of the future.
 
— John