AUSTIN, Texas, May 15, 2018 /PRNewswire/ — Sprint (NYSE: S) 5G will be making its way to even more major cities when it launches in the first half of 2019. Among the newly added markets to be the first to experience Sprint's fifth-generation network are the largest U.S. market, New York City; Arizona's largest city, Phoenix; and its hometown of Kansas City.
These three additional cities join the list of Sprint's first 5G markets, which are Atlanta, Chicago, Dallas, Houston, Los Angeles, and Washington, D.C. Additional markets will be announced as Sprint is planning to roll out its blazing fast mobile 5G service nationwide using its large amount of mid-band 2.5 GHz spectrum.
"Today we have a great LTE network, and with Sprint 5G, we'll deliver for our customers mobile data speeds that are up to 10 times faster, with significantly improved reliability and coverage," said Kevin Crull, Sprint's chief strategy officer, who today is presenting his keynote address at 5G North America. "This next generation of wireless technology will create incredible new connections to people and things, and services and experiences that are so unique they will make an impact on the lives of our consumers."
A Most Innovative 5G Strategy
Sprint received a Leading Light Award for the "Most Innovative 5G Strategy" here last night. The award, created by Light Reading, honored Sprint's approach in using its 2.5 GHz spectrum and game-changing Massive MIMO 5G technology to deploy 5G. Massive MIMO cell sites are capable of delivering up to 10 times the capacity of current LTE systems, significantly increasing data speeds for more customers in high-traffic locations. The radios support split-mode, enabling Sprint to deliver 4G LTE and 5G on the same radio simultaneously. This is a highly cost-effective approach, deploying equipment on existing cell sites that is software-upgradeable to 5G without requiring additional tower climbs.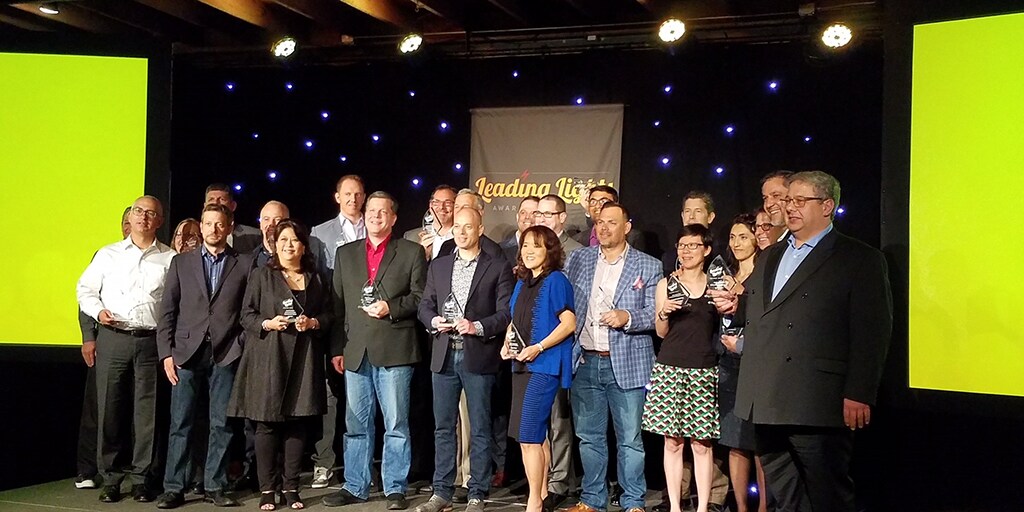 Sprint's execution of its now award-winning 5G strategy is well underway. Starting in April, the company rolled out its first Massive MIMO radios in Dallas, Los Angeles and New York City with more units being added in these and other 5G markets. Engineers continue to test the technology in the field to optimize the radios first for providing 4G LTE service, and then 5G. In 2018 and 2019 Sprint expects to deploy thousands of Massive MIMO radios, significantly increasing network capacity for millions of customers across the country.
"We have an innovative approach to 5G that leverages our 2.5 GHz spectrum assets with Massive MIMO technology and we're excited by the results of early deployment," said Dr. John Saw, Sprint chief technology officer. "Sprint is one of the only operators in the world with enough capacity to operate LTE and 5G simultaneously using Massive MIMO and huge channels of 100-200 MHz of licensed spectrum. We can deploy this in the top markets across the country and that's a powerful differentiator for Sprint."
Deploying Massive MIMO technology is a key part of Sprint's Next-Gen Network strategy. The company is significantly increasing its investment to dramatically improve coverage, reliability, and speed across its nationwide network and launch of the first mobile 5G network in the U.S in the first half of 2019. The multiyear Next-Gen Network build includes upgrading cell sites to triband service using 800 MHz, 1.9 GHz, and 2.5 GHz, adding thousands of new cell sites to expand coverage, and densifying the network with more small cells to increase capacity and speed.
About Sprint:
Sprint (NYSE: S) is a communications services company that creates more and better ways to connect its customers to the things they care about most. Sprint served 54.6 million connections as of March 31, 2018 and is widely recognized for developing, engineering and deploying innovative technologies, including the first wireless 4G service from a national carrier in the United States; leading no-contract brands including Virgin Mobile USA, Boost Mobile, and Assurance Wireless; instant national and international push-to-talk capabilities; and a global Tier 1 Internet backbone. Today, Sprint's legacy of innovation and service continues with an increased investment to dramatically improve coverage, reliability, and speed across its nationwide network and commitment to launching the first 5G mobile network in the U.S. You can learn more and visit Sprint at www.sprint.com or www.facebook.com/sprint and www.twitter.com/sprint.
SOURCE Sprint