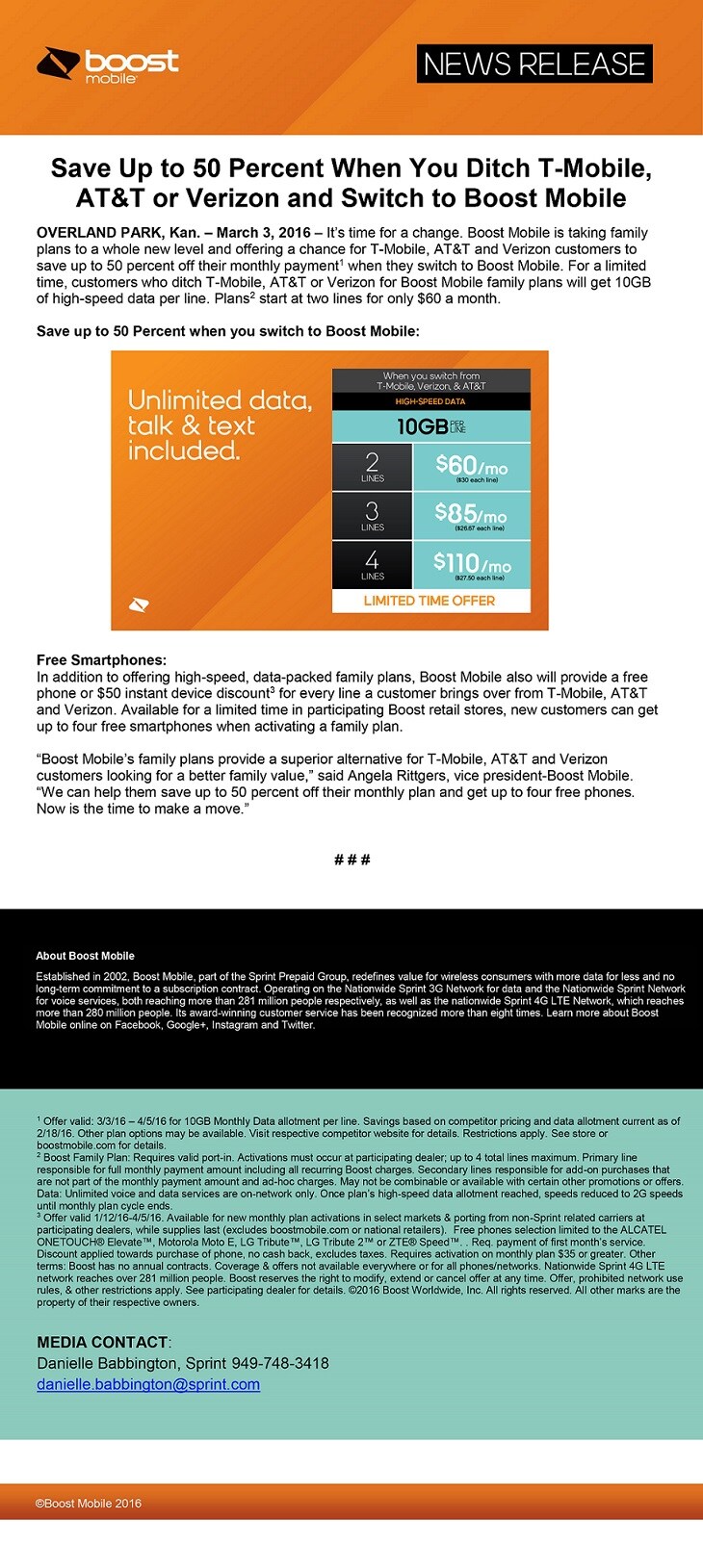 OVERLAND PARK, Kan. (BUSINESS WIRE), March 03, 2016 – It's time for a change. Boost Mobile is taking family plans to a whole new level and offering a chance for T-Mobile, AT&T and Verizon customers to save up to 50 percent off their monthly payment1 when they switch to Boost Mobile. For a limited time, customers who ditch T-Mobile, AT&T or Verizon for Boost Mobile family plans will get 10GB of high-speed data per line. Plans2 start at two lines for only $60 a month.
This Smart News Release features multimedia. View the full release here: https://www.businesswire.com/news/home/20160303005887/en/
Free Smartphones:
In addition to offering high-speed, data-packed family plans, Boost Mobile also will provide a free phone or $50 instant device discount3 for every line a customer brings over from T-Mobile, AT&T and Verizon. Available for a limited time in participating Boost retail stores, new customers can get up to four free smartphones when activating a family plan.
"Boost Mobile's family plans provide a superior alternative for T-Mobile, AT&T and Verizon customers looking for a better family value," said Angela Rittgers, vice president-Boost Mobile. "We can help them save up to 50 percent off their monthly plan and get up to four free phones. Now is the time to make a move."
About Boost Mobile
Established in 2002, Boost Mobile, part of the Sprint Prepaid Group, redefines value for wireless consumers with more data for less and no long-term commitment to a subscription contract. Operating on the Nationwide Sprint 3G Network for data and the Nationwide Sprint Network for voice services, both reaching more than 281 million people respectively, as well as the nationwide Sprint 4G LTE Network, which reaches more than 280 million people. Its award-winning customer service has been recognized more than eight times. Learn more about Boost Mobile online on Facebook, Google+, Instagram and Twitter.
1 Offer valid: 3/3/16 – 4/5/16 for 10GB Monthly Data allotment per line. Savings based on competitor pricing and data allotment current as of 2/18/16. Other plan options may be available. Visit respective competitor website for details. Restrictions apply. See store or boostmobile.com for details.
2 Boost Family Plan: Requires valid port-in. Activations must occur at participating dealer; up to 4 total lines maximum. Primary line responsible for full monthly payment amount including all recurring Boost charges. Secondary lines responsible for add-on purchases that are not part of the monthly payment amount and ad-hoc charges. May not be combinable or available with certain other promotions or offers. Data: Unlimited voice and data services are on-network only. Once plan's high-speed data allotment reached, speeds reduced to 2G speeds until monthly plan cycle ends.
3 Offer valid 1/12/16-4/5/16. Available for new monthly plan activations in select markets & porting from non-Sprint related carriers at participating dealers, while supplies last (excludes boostmobile.com or national retailers). Free phones selection limited to the ALCATEL ONETOUCH® Elevate™, Motorola Moto E, LG Tribute™, LG Tribute 2™ or ZTE® Speed™. . Req. payment of first month's service. Discount applied towards purchase of phone, no cash back, excludes taxes. Requires activation on monthly plan $35 or greater. Other terms: Boost has no annual contracts. Coverage & offers not available everywhere or for all phones/networks. Nationwide Sprint 4G LTE network reaches over 281 million people. Boost reserves the right to modify, extend or cancel offer at any time. Offer, prohibited network use rules, & other restrictions apply. See participating dealer for details. ©2016 Boost Worldwide, Inc. All rights reserved. All other marks are the property of their respective owners.
View source version on businesswire.com: https://www.businesswire.com/news/home/20160303005887/en/