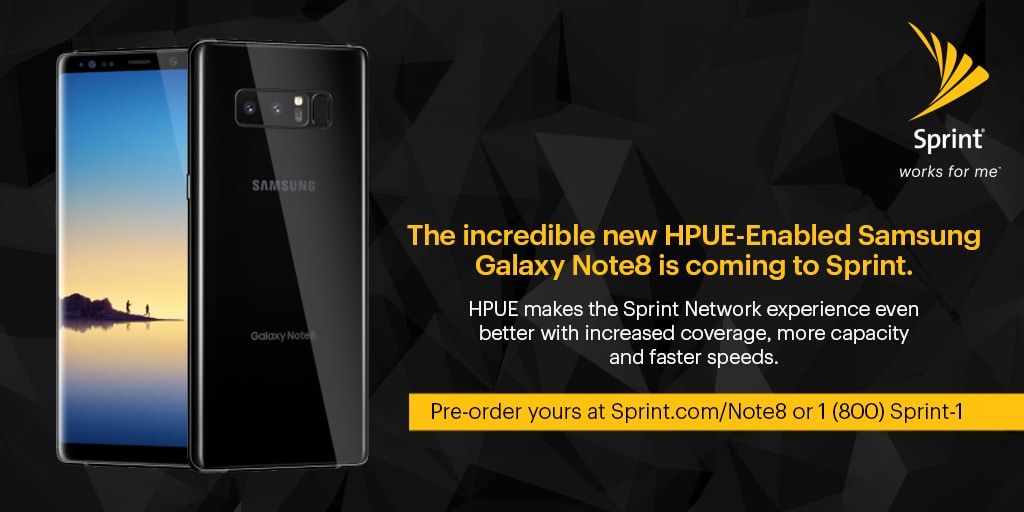 OVERLAND PARK, Kan. (BUSINESS WIRE), August 23, 2017 – Sprint celebrates the arrival of Samsung Galaxy Note8 with a great offer paired with the best price on unlimited:
Customers switching to Sprint get 50 percent off the lease price and pay just $20.00 per month with $0 down with 18 Sprint Flex payments1.
Galaxy Forever allows upgrades any time to the latest Galaxy after just 12 Sprint Flex payments, exclusively from Sprint.1
Customers who get Galaxy Note8 through Sept. 24 will receive their choice of a free Galaxy Foundation kit with a Samsung 128GB EVO+ memory card and Fast Wireless Charging Convertible ($189.98 value) or a free Samsung Gear 360 camera ($229.99 value).2
Preorder begins Thursday, Aug. 24, at www.sprint.com/note8 with devices shipping as soon as Sept. 5. Galaxy Note8 will be available in Orchid Gray and Midnight Black at all Sprint stores, sprint.com and 1-800-Sprint1 on Sept. 15. It will be compatible with the new Gear VR with Controller, which will also be available from Sprint beginning on Sept. 15 for $129.99.
"Without a doubt, Sprint is the best place to get the new Note8," said Marcelo Claure, Sprint CEO. "Only Sprint offers the best value for Unlimited and our network is built to handle the powerful features this device has to offer."
Sprint offers the best price on fully-featured Unlimited – starting on Friday, Aug. 25, customers who switch to Sprint get Unlimited data, talk and text, HD video and 10GB of mobile hotspot for just $22.50 per month per line for 4 lines with the 5th line for free. That's 50% off Verizon and AT&T Unlimited rates for a family of 4 or 5.3
Sprint's Network Gets Even Better
Galaxy Note8 is an HPUE-enabled (High Performance User Equipment) smartphone. HPUE makes the Sprint network experience even better with increased coverage, more capacity and faster speeds on capable devices. HPUE-enabled smartphones are designed to give customers a better overall experience with streaming videos, mobile gaming and other online apps and services. HPUE can extend Sprint's 2.5GHz coverage by up to 30 percent to nearly match its midband 1.9GHz spectrum performance, including indoors where the majority of wireless traffic is generated.
With an average of 204MHz of spectrum and more than 160MHz of 2.5GHz spectrum in the top 100 U.S. markets, Sprint has more spectrum than any other carrier across the nation, allowing Sprint to keep adding the capacity and speed needed to serve customers' increasing demand for unlimited data.
About Sprint
Sprint (NYSE: S) is a communications services company that creates more and better ways to connect its customers to the things they care about most. Sprint served 53.7 million connections as of June 30, 2017, and is widely recognized for developing, engineering and deploying innovative technologies, including the first wireless 4G service from a national carrier in the United States; leading no-contract brands including Virgin Mobile USA, Boost Mobile, and Assurance Wireless; instant national and international push-to-talk capabilities; and a global Tier 1 Internet backbone. Sprint has been named to the Dow Jones Sustainability Index (DJSI) North America for the past five years. You can learn more and visit Sprint at www.sprint.com or www.facebook.com/sprint and www.twitter.com/sprint.
1 $20.00/mo. after $20.00/mo. bill credit applied within two invoices. Excludes tax. For well-qualified customers with Sprint Flex and new line activation. $960.00 SRP. Early termination results in remaining balance due.
2 Requires online registration; limited time and only while supplies last. Terms and conditions apply. Visit Samsung.com/us/promotions for more information.
3 Savings until 10/31/18; then $60/mo. for line 1, $40/mo. for line 2 and $30/mo./line for lines 3-5. With AutoPay. Compared to advertised VZ Beyond Unlimited and AT&T Unlimited Plus rates for 4 lines as of 8/23/17. Carriers' features differ. Includes unlimited talk, text and data. Streams video up to HD 1080p, music up to 1.5mbps, gaming up to 8mbps. Data deprioritization during congestion. MHS, P2P and VPN reduced to 2G speeds after 10GB/mo. Other monthly charges apply.
View source version on businesswire.com: https://www.businesswire.com/news/home/20170823005861/en/