As we close out our fiscal year I'm excited to report some great progress with our Next-Gen Network build and the positive impact it's making for our customers. The billions we're investing in our network is about putting our spectrum advantage to work, building a superior 4G network and launching mobile 5G in the first half of next year.  
Thousands of Triband Upgrades
One of the most important things we've been doing over the past two years is to upgrade our macro sites to use all three of our spectrum bands – 800 MHz, 1.9 GHz and 2.5 GHz. When we put all three bands together, customers get our fastest, most reliable service. Today we now have thousands of triband upgrades on-air in cities across the country.
The addition of 2.5 GHz to more cell sites is key to giving customers a superior data experience. Today nearly every 2.5 GHz macro site uses either 40 MHz of spectrum with two-channel carrier aggregation, or 60 MHz of spectrum with three-channel carrier aggregation. As a result, when our customers use our 2.5 GHz service, they are getting our fastest average download speed in the country at 42 Mbps according to Ookla Speedtest Intelligence data.1 These great speeds are why we're blanketing the country with 2.5 GHz.
Northern New Jersey is just one example of the results we see when we execute our plan. In the past 12 months our average download speed jumped 68% from 14.15 Mbps to 23.81 Mbps, and customers' time on LTE now runs above 94%, with more improvements on the way.2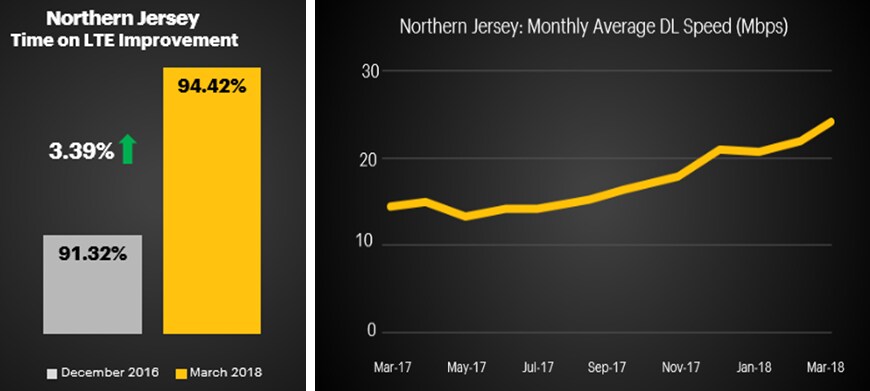 Hundreds of Thousands of Small Cells
Our Next-Gen Network build also includes densifying the network by adding large volumes of 2.5 GHz small cells in every major market. The award-winning Sprint Magic Box is key to our plan, and it continues to gain momentum. This all-wireless small cell not only boosts indoor data speeds, but more importantly, our Net Promoter and Quality of Experience scores with customers.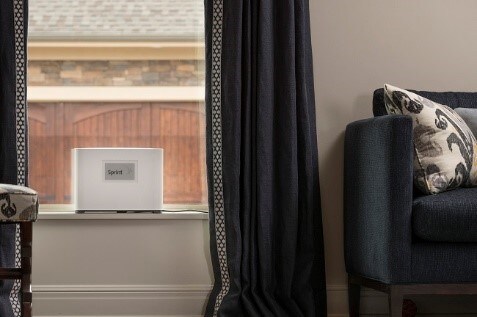 We've now distributed nearly 200,000 Sprint Magic Boxes to consumers and businesses in more than 200 cities, making this one of the largest small cell deployments in the U.S. We remain on track to further densify the network by deploying 1 million Sprint Magic Boxes as part of our multi-year roadmap. And we're working on some innovative new product features to share in the coming months.
In addition to Sprint Magic Box, we have a number of other flexible, low-cost small cell solutions in our toolkit. This includes strand mount small cells. We've deployed thousands of these over the past few months, and our numbers are expected to ramp up dramatically by summer. As a result, customers are experiencing significantly faster data speeds. In preliminary internal drive tests where we've deployed 2.5 GHz strand mount small cells, the product delivered download speeds up to 16 times faster than just relying on our macro sites. And time spent on 2.5 GHz while driving throughout the test areas increased up to 58%.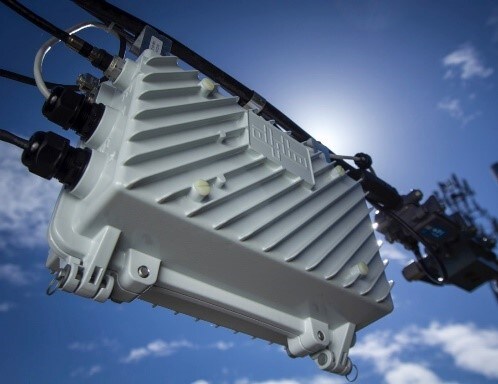 Sprint Most Improved in Speed
While we still have work to do, our triband upgrades and new deployments have helped drive a 36% increase in Sprint's national average download speed year-on-year, the largest increase of the four big carriers.3 Today Sprint is #1 for fastest average download speed in 100 cities according to Ookla Speedtest Intelligence data, including cities Austin, Denver, Pittsburgh, Salt Lake City and Seattle as well as the market of Indianapolis.4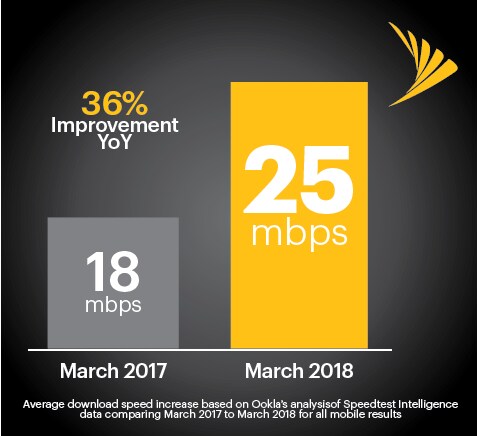 Seattle, WA
The availability of 800 MHz in Seattle has been a huge boost for the network, providing better in-building coverage and increasing overall time on LTE. We also have several thousand Sprint Magic Boxes deployed across Western Washington making a big difference for our customers.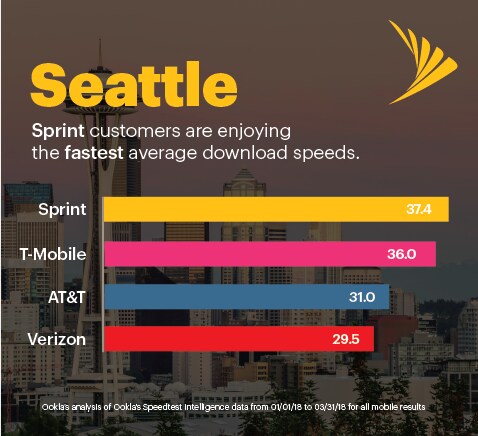 Pittsburgh, PA
Sprint customers in Pittsburgh are having an outstanding data experience thanks to the fact that nearly all of our macro cell sites are now triband, with more than a hundred upgrades made in the past year across the market.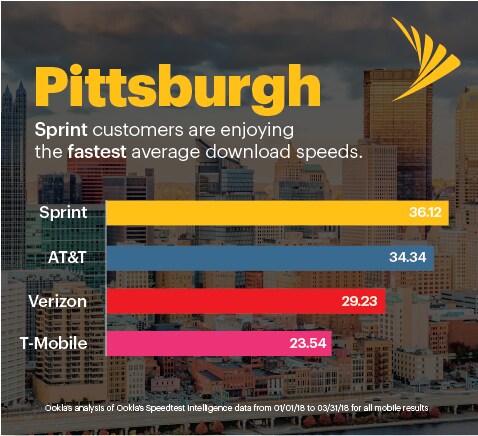 Austin, TX
At SXSW last month Sprint customers had a great experience on our network with more 2.5 GHz cell sites deployed in downtown Austin prior to the festival. Today approximately 75% of the market now has triband service with more upgrades on the way.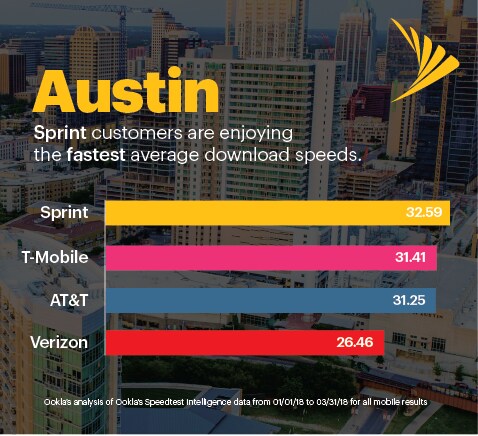 These are just a few examples of the impact our Next-Gen Network build is having in local markets, providing customers with better coverage, speed and reliability. 
Building the Sprint 5G Network
We're also well underway rolling out 256 QAM and 4X4 MIMO nationwide to improve the efficiency of our spectrum and drive even faster data speeds. These technologies, combined with three-channel carrier aggregation using 60 MHz of 2.5 GHz, will enable us to provide customers with Gigabit Class LTE service in more than 100 of the largest markets in the country. Our 4G LTE Advanced and Gigabit LTE network will be critical to providing customers with a seamless experience when we launch mobile 5G in the first half of 2019.
The Federal Communications Commission has issued type approval for our first 5G radio model, and we're excited to have begun testing this dual-mode equipment. Our 5G radios use Massive MIMO, allowing us to serve customers a tremendous amount of capacity in high-traffic locations, and deliver 4G LTE and 5G separately or simultaneously. These radios are highly cost-effective, being software-upgradeable to 5G without additional tower climbs. We think this is just one of many reasons Sprint was named a Leading Lights Award finalist for Most Innovative 5G Strategy.
Looking ahead, the move to mobile 5G is when our spectrum advantage becomes a real differentiator. With more than 160 MHz of 2.5 GHz in the top 100 markets, Sprint is one of the only operators in the world with enough capacity to operate LTE and 5G simultaneously using Massive MIMO and huge channels of 100-200 MHz of licensed spectrum on the same radios. 
We're excited to make strong progress with our Next-Gen Network build. Our new investment is taking hold and creating a better experience for customers in markets all across the country. Build activities continue to ramp up, and we look forward to a year filled with new innovations and milestones on our journey to launch mobile 5G.
— John
1 Sprint's analysis of Speedtest Intelligence data from 3/1/18 to 3/31/18 for all Android mobile results comparing Sprint's average download speeds on 2.5 GHz spectrum to 800 MHz,1.9 GHz and 2.5 GHz combined
2 Sprint's analysis of Speedtest Intelligence data from 3/1/17 to 3/31/18 for all mobile results
3 Ookla's analysis of Speedtest Intelligence data comparing March 2017 to March 2018 for all mobile results
4 Ookla's analysis of Speedtest Intelligence data from 1/1/18 to 3/31/18 for all mobile results