Sprint's newest innovation, Sprint Magic Box, has won the 2017 Mobile Breakthrough Award for Small Cell Technology Innovation of the Year.
The mission of the Mobile Breakthrough Awards is to honor excellence and recognize the innovation, hard work and success in a range of mobile and wireless technology categories, including Cloud Computing, Mobile Management, Wireless and Broadband, Mobile Analytics, IoT and Smart City and many more. All nominations were evaluated by an independent panel of experts within the wireless industry.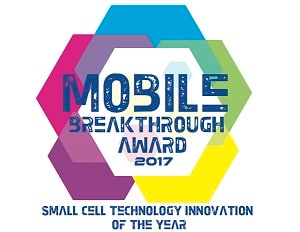 "Sprint truly exemplified the spirit of the Mobile Breakthrough Awards in winning the Small Cell Technology Innovation of the Year award with Sprint Magic Box," said James Johnson, managing director, Mobile Breakthrough. "While Sprint's Magic Box boasts incredible technology such as LTE UE Relay, the real magic is in its simplicity of use. By being able to plug in the Sprint Magic Box and automatically improve data coverage and speed, Sprint is truly delivering an innovative small cell technology that promises break through improvements for consumers and business users alike. We congratulate Sprint on their technology innovation and industry recognition."
As the world's first all–wireless small cell, Sprint Magic Box improves data coverage and increases download and upload speeds on average by 200 percent.1 The breakthrough new technology allows Sprint to very quickly and cost–effectively densify its nationwide LTE Plus network, and provide an improved experience for its millions of business and consumer customers.
"This latest innovation is a key part of our Densification and Optimization toolbox for bringing LTE Plus service to homes and businesses across the country," said Günther Ottendorfer, Chief Operating Officer – Technology at Sprint. "The feedback has been tremendous, and we're excited to see Sprint Magic Box making a difference for thousands of our customers."
The Sprint Magic Box is an indoor, self-configuring small cell, about the size of a shoebox, that's easy for customers to install. It requires no implementation, labor, or rental costs that are a hurdle for many traditional small cell deployments. The unit is simply placed near a window and plugged into a power outlet. Sprint Magic Box connects to a nearby Sprint cell site and within minutes is up and running. Customers immediately have a better experience inside their businesses and homes while streaming videos, surfing the web, and using their favorite online apps and services.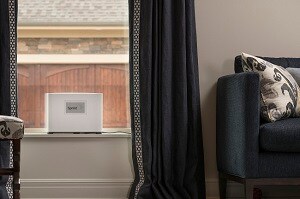 Sprint designed the Sprint Magic Box so that customers in surrounding areas will also enjoy the benefits of the locally installed unit. One Sprint Magic Box provides average coverage of 30,000 square feet indoors and can benefit adjacent Sprint customers inside the building. The signal can also extend coverage 100 meters outside a building, benefitting Sprint customers in nearby buildings and improving street–level network performance.
Sprint Magic Box is also a platform for innovation. In September Sprint began testing the potential of putting Sprint Magic Box into the air as a tool to bring in more coverage and capacity to support temporary spikes in network traffic – for example, at large events, venues or public gatherings. Sprint is also testing Sprint Magic Box as an aerial small cell solution for emergency response – for example, flying data service into hard-to-reach locations following natural disasters.
About Sprint:
Sprint (NYSE:S) is a communications services company that creates more and better ways to connect its customers to the things they care about most. Sprint served 53.7 million connections as of June 30, 2017 and is widely recognized for developing, engineering and deploying innovative technologies, including the first wireless 4G service from a national carrier in the United States; leading no-contract brands including Virgin Mobile USA, Boost Mobile, and Assurance Wireless; instant national and international push-to-talk capabilities; and a global Tier 1 Internet backbone. Sprint has been named to the Dow Jones Sustainability Index (DJSI) North America for the past five years. You can learn more and visit Sprint at www.sprint.com or www.facebook.com/sprint and www.twitter.com/sprint.
1 Signal and speeds based on optimal conditions for most Sprint devices.