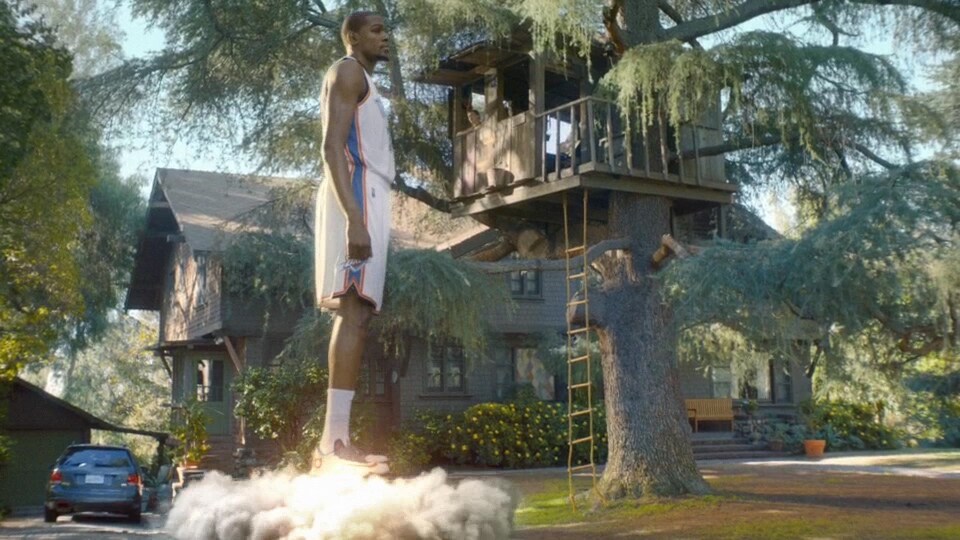 OVERLAND PARK, Kan. (BUSINESS WIRE), April 17, 2014 – Kids across America dream about getting the chance to talk with an NBA superstar like Kevin Durant, and in the latest TV advertisement from Sprint (NYSE: S), which begins airing tonight across network and cable TV, viewers will see one such dream unfold.
Durant is the first athlete to star in the new episodic Frobinsons campaign for Sprint. In this latest 30-second spot, the Frobinsons' teenage son Zack gets the chance to talk to a larger-than-life version of the Oklahoma City forward. Zack knows the Sprint Framily™ Plan allows his Framily group to save more on their monthly bill by having up to 10 people. He enthusiastically tries to convince Durant, his favorite player, to join his Framily so they can all enjoy the savings.
In addition to TV, Durant will be featured in digital extensions supporting the Sprint Framily Plan.
"We're proud to introduce Kevin Durant as the newest member of our Frobinsons campaign" said Jeff Hallock, chief marketing officer-Sprint. "Kevin is an ideal role model for any kid to dream of having as a part of their Framily."
This is the third TV ad in which Durant has starred for Sprint and is the third year for Sprint as the official wireless telecommunications provider to the NBA.
In the near future, four-time NASCAR Sprint Cup Series champion Jeff Gordon will become the next celebrity athlete to make an appearance with the Frobinsons.
The campaign was created by Figliulo&Partners in partnership with DigitasLBi and MediaVest.
Sprint Framily Plan
The Sprint Framily Plan is available to new and existing customers. The more people added to the group, up to 10 phone lines total, the greater the savings for everyone on the plan.
For one line of service, new Sprint customers pay $55 per month per line for unlimited talk, text and 1GB of data while on the Sprint network. For each additional new Sprint customer that joins the Framily group, the cost per person goes down $5 a month up to a maximum monthly discount of $30 per line. Build a group of at least seven people and everyone gets unlimited talk, text and 1GB of data for $25 per month per line (all pricing excludes taxes and surcharges). The Framily Plan allows members to share the savings, without the hassle of sharing a bill. Each account can be billed separately.
Framily Switching Bonus
The Framily Switching Bonus delivers up to $650 in savings per subscriber.
For a limited time, new customers who bring their number to Sprint can receive up to $300 in credit for trading in their current phone with Sprint Buyback and a prepaid card worth up to $350 to cover switching fees. This offer will be available exclusively at Sprint stores and online at Sprint.com now through May 8.
The Framily Switching Bonus offer is available to new and current customers bringing a number to Sprint from another postpaid carrier and signing up on a Sprint Framily Plan. Customers will receive credit for their phone trade-in as a part of the initial transaction. Approximately 10-12 weeks after initial sign-up, customers who register and submit their final bill from their previous carrier and who are in good standing at the time of payment processing will receive a prepaid card worth up to $350 to pay back Early Termination Fees or, if not on contract, their remaining Equipment Installment balance.
About Figliulo&Partners
Figliulo&Partners is a full-service brand agency for the digital world. With headquarters in New York, the agency is focused on bridging the gap between brand and digital thinking for clients such as Sprint. Figliulo&Partners is led by creative industry veteran Mark Figliulo as founder and chief executive officer, as well as Judith Carr-Rodriguez as founding partner and president. The agency develops industry-leading multichannel creative work that is powered by ideas and driven by data. For more information, please visit www.figliuloandpartners.com.
About DigitasLBi
DigitasLBi is a global marketing and technology agency that transforms businesses for the digital age. We help companies of all shapes and sizes decide What's Next… and then we take them there. Also a top 10 global agency, DigitasLBi comprises 6,000 digital and technology experts across 40 offices in 25 countries worldwide. DigitasLBi North America founded the DigitasLBi NewFront in 2008, a breakthrough program leading the industry conversation about the role digital content can play for marketers. In 2012, the agency successfully founded the Digital Content NewFronts to shape a new market space for original content at scale – an acknowledged competitor in the Upfront marketplace. DigitasLBi is a member of Publicis Groupe.
About Sprint
Sprint (NYSE: S) offers a comprehensive range of wireless and wireline communications services bringing the freedom of mobility to consumers, businesses and government users. Sprint served more than 55 million customers at the end of 2013 and is widely recognized for developing, engineering and deploying innovative technologies, including the first wireless 4G service from a national carrier in the United States; leading prepaid brands including Virgin Mobile USA, Boost Mobile, and Assurance Wireless; instant national and international push-to-talk capabilities; and a global Tier 1 Internet backbone. The American Customer Satisfaction Index rated Sprint as the most improved company in customer satisfaction, across all 47 industries, during the last five years. Sprint has been named to the Dow Jones Sustainability Index (DJSI) North America in 2011, 2012 and 2013. You can learn more and visit Sprint at www.sprint.com or www.facebook.com/sprint and www.twitter.com/sprint.