As we are wrap up 2018, we are celebrating a banner year for the Sprint network. We made a massive investment to drive strong improvements in our network performance today and prepare to launch mobile 5G starting in the first half of next year. We're ending this year with our biggest LTE data coverage footprint1, LTE Advanced nationwide which is up to 2X faster than before2 on capable devices, and Gigabit Class LTE performance in more than 270 cities.
Last year around this time, we had just begun work on what is now known as our Next-Gen Network plan, unleashing our spectrum assets to improve coverage, reliability and speed. Our hard work over the last year drove many improvements including:
Tens of thousands of macro site upgrades to use our three spectrum bands. With more than 70% of our sites now providing 2.5 GHz, we expect the vast majority will be updated by the end of our fiscal year.
More than 25,000 mini macros and strand mounts deployed across the country, marking an incredible increase in small cell deployments. We also now have more than 275,000 Sprint Magic Boxes improving data speeds for homes and businesses, including our newest, smaller and faster Generation 3 model which began shipping last month, and one for hotels and hospitality venues.
Hundreds of Massive MIMO radios deployed, boosting speed and capacity in high-traffic areas with LTE Advanced service today and ready for 5G next year.
A 30% increase in our LTE data coverage footprint thanks to new roaming agreements, helping our customers connect in more places across the country.
We're proud of this progress and are giving Unlimited Plus and Premium customers even more monthly mobile hotspot allotments at no additional cost to enjoy our network improvements.  
The great news is that our Next-Gen Network efforts are taking hold, providing an improved user experience for our customers. Here are some of our highlights:
Sprint is the most improved carrier in the U.S. Our national average download speeds are up significantly year-over-year based on an analysis of Nielsen data (93% increase)3, and PCMag 2018 Fastest Mobile Networks (87% increase)4.
We have the fastest average download speed in 123 cities in the latest quarterly data from Ookla® Speedtest Intelligence®.5
We just announced end-of-year major market wins with the fastest download speeds in two of our first 5G markets, Manhattan (NYC) and Los Angeles, as well as Boston, Seattle and Denver, according to RootMetrics.6  Their indoor and outdoor testing was conducted during peak-usage hours during the day in the busiest areas of the cities to see how well carriers perform and to evaluate preparedness for upcoming 5G deployments.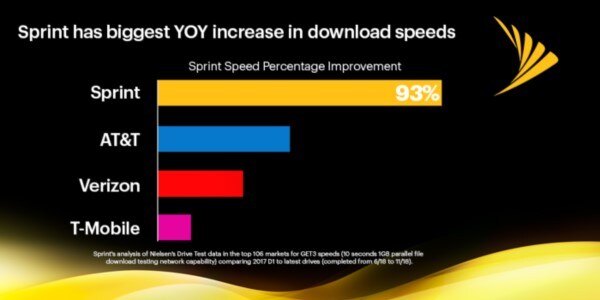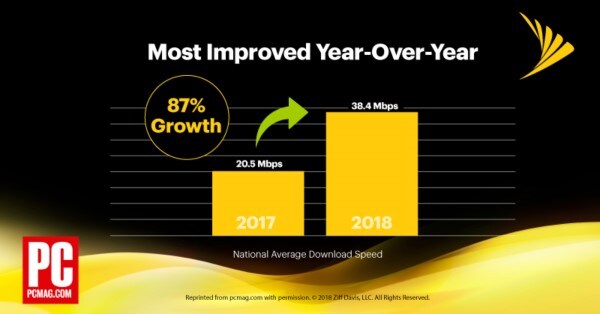 We continue to deploy our innovative and traditional technology to take advantage of our spectrum holdings as we invest in our network and prepare for the launch of 5G.
Getting Ready for Sprint 5G in 2019
I've worked in this industry for all of the "G" introductions and transitions and have never been more excited about what's ahead for our customers at home, at work and at play with Sprint 5G. We're making great progress on our path to launch 5G in the first half of 2019. Earlier this month at our lab in Reston we completed our first 5G data transmission on 2.5 GHz spectrum, and we're excited to soon take testing into the field.
We'll begin our mobile 5G service rollout starting in Atlanta, Chicago, Dallas, Houston, Kansas City, Los Angeles, New York City, Phoenix and Washington, D.C., building out from the city centers to create a mobile 5G experience in these metro areas, and adding more cities over time.
Sprint's 2.5 GHz spectrum combined with innovative Massive MIMO will drive boost capacity to help move more data to more people more quickly. Our use of this technology in Atlanta ahead of the big game in February will be a great test. And the units we've installed this year will be the foundation for our 5G network, only requiring a software upgrade to provide split mode service.
Our initial Massive MIMO sites are performing well in our tests on LTE where we're seeing a 4X average speed and capacity increase and up to 10X peak increase. In the world's first independent benchmark study on Massive MIMO, Signals Research Group recently found the benefits of our Dallas-area 64T64R commercial deployment "real and meaningful, generating significant increases in downlink and uplink throughput." It's a great indication of what's to come as we continue to deploy Massive MIMO in more places and then add 5G to the mix.
Of course, we are building our 5G product ecosystem to give customers choice in how they connect to our 5G network next year. We've already announced plans with LG for a 5G smartphone, HTC for an innovative 5G mobile smart hub and we'll have a Samsung 5G device in our lineup next year, too, with more to be announced. 
2018 was a very important year for the Sprint network. While we still have work to do, I'm pleased with the progress we've made in our buildout and the impact it's having on our customers' experience. 2019 will be a milestone year as we continue to drive those efforts and begin our 5G launch. In addition, although the transaction remains pending, our planned merger with T-Mobile will allow us to combine each company's spectrum and resources to create the best nationwide mobile 5G network in the industry and accelerate 5G innovation and competition.
Happy Holidays and cheers to lots of fantastic things in the year ahead for the Sprint Network.
John
1 4G LTE data coverage with roaming
2 Compared to Sprint 4G LTE.
3 Sprint's analysis of Nielsen's Drive Test data in the top 106 markets for GET3 speeds (10 seconds 1GB parallel file download testing network capability) comparing 2017 D1 to latest drives (completed from 6/18 to 11/18)
4 Reprinted from pcmag.com with permission. 2018 Ziff Davis, LLC. All Rights Reserved.
5 Analysis by Ookla® of Speedtest Intelligence® data average download speeds from 7/1/18 to 9/30/18 for all mobile results.
6 Results based on RootMetrics® 2H 2018 Metro RootScore® Reports. Speeds represented are Median Downlink Throughput speed.  Tested with best commercially available smartphones on 4 national mobile networks across all available network types. Your experiences may vary. Results are not an endorsement of Sprint. Visit www.rootmetrics.com for more details.